Water Damage in South Bay LA
911 Restoration of South Bay Los Angeles
In South Bay Los Angeles, the climate is hot and dry. However, that doesn't mean properties are safe from water damage.  Even normal wear and tear from the weather can lead to restoration repairs.
At 911 Restoration of South Bay Los Angeles, we offer a Fresh Start with our comprehensive selection of property damage restoration services, including but not limited to:
Whether you're a South Bay Los Angeles homeowner or business owner, 911 Restoration of South Bay Los Angeles is your Fresh Start! We'll communicate with you throughout the entire process, help answer questions related to insurance, and restore your property to its pre-damaged condition. One of our IICRC-certified teams is dispatched within 45 minutes of your call! Contact us today, and one of our friendly representatives will assist you in finding the nearest South Bay Los Angeles location.
At 911 Restoration of South Bay Los Angeles, we're open 24/7/365 to handle water damage restoration, mold removal, fire damage restoration, and more. As soon as you call us, we'll have a trained staff member at your property in 45 minutes or less. We offer free visual inspection (for property owners only) as well as same-day service. Because all of our team is IICRC-certified, you can rest assured your property restoration is in expert hands.
When you need professional repairs in Torrance, Hawthorne, Redondo Beach, or the surrounding areas, call our team at 911 Restoration of South Bay LA.
Service area map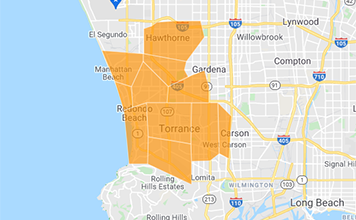 Water Damage Restoration
The longer water sits inside your property, the more damage it does, and the more money it costs. In addition to damaging your furniture and belongings, water rots your building materials and breeds mold. On top of the cost, there's the added stress and time it takes to fix. Water damage restoration in Los Angeles doesn't just disrupt your home or business. It disrupts your life.
At 911 Restoration, our water remediation experts start with a thorough inspection. After we identify the source of the problem, we contain the water to prevent further damage and get to work on restoration. In addition to water extraction, we also dry and dehumidify your property.
For full service water damage restoration in South Bay LA, contact one of our staff today.
David R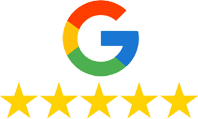 "Roee is fantastic!! He quickly came to our rescue when our water heater flooded multiple rooms in our house, and we can't thank him enough for completely remediating the related damage. Roee is prompt, efficient, professional, and friendly - you can tell he genuinely cares for his clients, and it shows in his work. Thank you again,"
Cleaning Services and Disinfection Solutions
Whether you own commercial or residential property, cleanliness is important. When you own a retail store, restaurant, or office space, you need to make sure your space is clean and safe for customers and employees. Maybe your home needs a deep clean after a fire, sewer backup, or mold remediation. Perhaps you're overwhelmed with life and work and need the help of a professional to guarantee your space is germ-free.
Whatever your needs, 911 Restoration of South Bay LA has cleaning services and disinfection solutions. Our staff is constantly training in the latest techniques and practices to ensure the health and safety of you and your property. In addition to wearing protective gear like gloves and masks, we only used EPA approved chemicals during professional cleaning.
To learn more about our cleaning services and disinfection solutions, give us a call.
Mold Removal
Mold is a constant threat for properties. When water enters your building,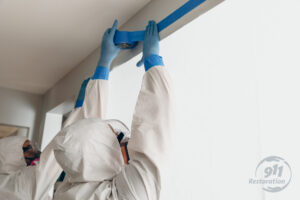 mold can grow in less than 24 hours. Mold thrives in damp environments, so it's important to make sure your property has enough ventilation, in addition to thorough water cleanup.
If your property has mold, you might not see it right away. It grows in dark places like closets and crawls spaces. If your building has a damp, musty smell, however, or your residents are coughing, sneezing, and experiencing frequent headaches, both are signs of a mold infestation. If you experience any of these symptoms, call a Los Angeles mold remediation expert right away.
At 911 Restoration of South Bay LA, our mold removal process starts with a full inspection, followed by a safe removal. We also disinfect and dry your property afterwards. If you have carpets, drywall, or other materials infested by mold, we remove and replace them for you.
Call us to get started on your mold remediation today.
Sewage Backup Cleanup
If your shower or sink is slow to drain, or you have difficulty flushing your toilet, your building could experience a sewage backup. Sewage cleanup in Los Angeles is a nightmare for any property owner, flooding your building with bacteria-carrying waste water in no time.
If you see warning signs of a sewage backup, like problems with drainage, water bubbling, or a foul smell, get your plumbing checked right away. In the unfortunate event of a sewage backup, evacuate the area immediately. Try to get your utility company to turn off your water and power, open windows to ventilate the area, and call a professional. Waste water is hazardous, so don't attempt to clean it up yourself.
At 911 Restoration of South Bay LA, an experienced technician will be there within 45 minutes to handle your sewage backup, day or night.  After stopping dirty water from spreading, we clean up and dispose of sewage safely. We also have professional fans and other equipment to dry your property, and our cleaning professionals will get your property bacteria-free in no time.
Call us to learn more.
Fire Damage Restoration
In Torrance, Hawthorne, Redondo Beach, and the surrounding areas, fires are a constant threat. Hot, dry weather in South Bay LA creates prime conditions for wildfires to start and spread. When your property has the misfortune of crossing paths with a deadly, destructive fire, we're here to offer fire damage restoration in Los Angeles.
In addition to puffback cleanup, smoke and odor removal, and soot cleanup, we also offer full structural repairs. When fire damage has you stressed and overwhelmed, one of our friendly agents will handle your insurance claim for you. With over 30 years of experience, we work with all kinds of insurance companies for all types of restoration, so you never have to go it alone.
Contact one of our compassionate staff for fire damage restoration in South Bay LA.
Disaster Restoration
Disasters give property owners little time to prepare. A wildfire or flood can strike without warning, spreading damage before you have time to protect your property or belongings.
At 911 Restoration of South Bay, we offer community support through emergency disaster restoration. Whether you need help with moving, storage, or board-up before a disaster, or fire damage restoration or flood cleanup afterwards, we do it all.
Call us for immediate disaster clean up Los Angeles, at any time.
Commercial Restoration
At 911 South Bay of Los Angeles, we understand how valuable your commercial property is. Every one of our branches is locally owned and operated, which means our team in South Bay understands the needs of business owners like yourself.
If your commercial building experiences an accident or emergency, you need professional restoration. Our commercial restoration addresses water damage, fires, mold, and so much more.
Call us to get started today.
Serving the communities of Hawthorne, Manhattan beach, Redondo beach, Torrance and surrounding area.