Disaster Restoration in South Bay Los Angeles
Thanks to the pandemic, 2020 became one of the most disaster-heavy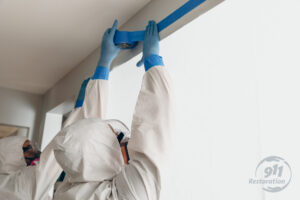 years yet. FEMA declared more disasters in 2020 than any other year since 2011. With global warming, disaster restoration will likely increase as more and more people are affected by these events.
Natural disasters are so destructive largely because they strike without warning. In addition to disrupting people's lives, disasters account for billions of dollars in property damage every year.
Unfortunately, California ranks in the top four when it comes to states that experience the most disaster damage. Because of this, California residents incur approximately $4.14 billion in property damage every year. That averages out to about $319 dollars per household annually. For some people, that's more than they can afford.
When it comes to natural disasters, wildfires contribute the most damage in California. In the South Bay LA area, however, earthquakes and landslides also cause issues for properties and their owners. No matter what kind of property you own, you never want any of these events to affect your building. Wildfires cause smoke damage and structural collapse. Earthquakes threaten your building's foundation. Landslides cause water damage or worse.
If you own property in South Bay Los Angeles, you already know how expensive it is to maintain a building. If your property experiences a disaster, it's upsetting enough. Don't let disaster restoration derail your budget or cause you additional stress.
No matter what kind of emergency your property faces, 911 Restoration of South Bay LA is here to help. As a nationally respected brand, we have over 30 years of experience with disaster cleanup, water damage restoration, storm damage, and more. We even offer same-day service for commercial and residential properties. Our South Bay LA branch is open 24/7/365 to provide disaster restoration for Hawthorne, Redondo Beach, Torrance, and the surrounding areas. Our entire staff is also IICRC-certified to tackle your emergency restoration.
When you need disaster restoration in Hawthorne, Redondo Beach, or anywhere in South Bay LA, give us a call.
What is Disaster Restoration?
At 911 Restoration of South Bay, we believe in helping people protect their properties before a disaster as well as helping them rebuild afterwards. That's why our emergency restoration includes board up services to prevent storm damage and moving and storage to keep your belongings safe.
If you experience an emergency like a flood, we offer water damage restoration. This includes a full water extraction, drying and dehumidifying, and more. If your building materials have water damage, smoke damage, or mold, we remove and replace them for you. If you have dirty wastewater inside your property after a sewage cleanup in Los Angeles or soot after a fire, we'll clean it up safely. Don't let bacteria or unclean air after a disaster impact the health of your building's inhabitants. Ask us about our deep cleaning and disinfection solutions.
Because we're available any time, you never have to wait to get started on disaster restoration. If a fire damages your roof in the middle of the night, we'll have a trained expert at your door within 45 minutes or less. If you experience an earthquake or flooding, we'll assess the damage quickly and stop it from getting worse. In addition to water damage restoration in Los Angeles and disaster cleanup, we provide structural inspections, leak repair, and more.
Contact us for emergency restoration services anytime.
Does Insurance Cover Flooding Cleanup?
Disasters are a huge cost concern for property owners. Whether you own a home or business, you need to know if you're protected when the worst happens. That's why we offer free insurance consultations. Whether your South Bay LA building has storm damage or water damage, we'll work with the insurance adjuster to get you the best deal. We'll even help you with the paperwork, and we work with all insurance companies.
With us, you never have to worry about unexpected costs or a job taking too long. Our team of professionals works quickly and efficiently to get the job done right the first time. Because our South Bay LA branch is locally owned and operated, we offer big company solutions with personalized customer service. We always have staff members available to answer your questions, and we work with you budget and schedule. No matter what your property issue is, we have a solution.
Call us for disaster restoration that puts you first.
Serving the communities of Hawthorne, Manhattan beach, Redondo beach, Torrance and surrounding area.