Trauma / Biohazard / Crime Scene Clean Up Services
Leaders in Crime Scene Clean Up Services in South Bay Los Angeles
When your business or home turns into a crime scene, it can be a shocking and traumatic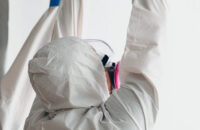 experience. At this time, it can be challenging to think straight. However, it is equally crucial to clean up the crime scene without delay. This is because biohazards like blood, chemicals, and bodily fluids carry pathogens. These pathogens are hazardous and can cause potential diseases and sometimes even death.
If blood and fluids are not cleared and cleaned up properly, they can get trapped in walls, floors, and other surfaces in and around the property. These pathogens can cause people to get sick, resulting in diseases like hepatitis B and C, MRSA, and HIV. Therefore, first thing you should do after you report the crime to the police and once the emergency responders finish their task at the crime scene is contact us.
At 911 Restoration of South Bay Los Angeles, we will come at your assistance within or less than 45 minutes. We specialize in biohazard clean up and biowaste disposal services. Click here to contact us now.
Biohazard Clean up by Seasoned and Trained IICRC Certified Professionals
At 911 Restoration of South Bay Los Angeles, we take pride in being the go-to service provider for biohazard clean up services. Property owners reach out to us because we are a name they can trust and rely on. As soon as you call us for clean up services, our team arrives well-equipped and geared in the shortest time, ensuring that the task is handled fast and with the utmost safety in conformance with OSHA guidelines.
Our techs are bonded, insured, and licensed. We are well-trained to handle and dispose of dangerous bodily fluids with care and safety. We ensure that your property is spotlessly clean and safe. After the bodily fluid clean up and biowaste disposal, our professionals thoroughly clean your property so that no pathogen remains on any surface or in the air. Our goal is to restore your property to its previous state as quickly as possible.
From blood spill clean up to homicide, hoarding, chemical spill, or bodily fluid clean up, we can assist you with them all with care, compassion, and maximum support.
Our Team Stands By Your Side from Start to Finish
We understand that handling and coping with a traumatic event and its aftermath is hardest. It can take you back mentally, emotionally, and physically. Losing a loved one in a homicide act at your premises is devastating. This is when you need a professional company that understands your situation and is ready to work with you like family at every stage of the process to move forward faster and with greater strength. And that's what we do.
Arriving shortly after your call, our experts work with you from start to finish providing you unwavering support and guidance so that you can move past the tragedy and start fresh. Call us now. We are trained in disinfecting, cleaning, and deodorizing properties.