Mold Removal in South Bay LA
If you own a home or business in Torrance, Hawthorne, Redondo Beach,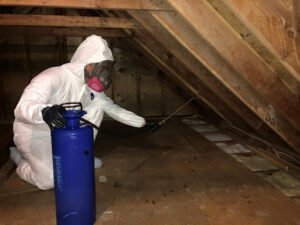 or the surrounding areas, you never want an accident or emergency to affect it. If a pipe bursts in the middle of the night, flooding your property with dirty waste water, or a wildfire causes structural damage, you need professional help fast. But what about smaller issues that affect your property over time? Is it worth hiring a professional, or can you solve them yourself with a little research and a trip to your local home improvement store?
For property owners in South Bay LA, repairs and maintenance are an additional cost in an already expensive area. It's tempting to tackle improvements yourself to try and save time and money.
Mold is a common concern for property owners. Even in a dry, hot climate like South Bay Los Angeles, mold threatens the health and safety of buildings and their inhabitants. If you discover mold in your walls or under your kitchen sink, you might think you can get rid of it with a simple cleaning solution and some elbow grease. Unfortunately, attempting to remove mold yourself releases spores into the air. Mold spores spread quickly, making your problem worse. The more mold your property has, the harder it is to get rid of. If you accidentally inhale the spores, they can infect your lungs, costing you trips to the doctor, not to mention discomfort and stress.
When you need mold removal, trust our IICRC-certified experts at 911 Restoration of South Bay LA. In addition to mold cleanup, we offer water damage restoration in Los Angeles, soot removal, leak repair, and more. Our friendly staff is on-call 24/7/365, so no matter what kind of property issue you have, we're here to offer solutions. As soon as you call us, we'll send a trained expert to your door within 45 minutes or less. For mold remediation in Torrance, Hawthorne, Redondo Beach, or the surrounding areas, call us today.
Why is mold removal so important?
Because mold grows in the dark, you might not notice it right away. If your building recently had water damage, however, fungus can sprout in as little as 24 hours. Mold usually grows in places where moisture gathers unnoticed, like under floors or inside ceilings or walls. This makes it hard to see, and all the more dangerous for property owners. Mold slowly infects buildings, eating away their materials and threatening the structural integrity of the property. By the time you notice a problem, you might need large building repairs in addition to mold decontamination, which will end up costing you even more money.
Mold might be hard to find, but it presents itself in other ways. If you notice a damp, musty smell inside your property, no matter how many times you clean, mold could be to blame. Additionally, mold also causes frequent health issues like coughing, headaches, or allergies. If your residents have any of these symptoms, it might be time for a mold inspection. Black mold inside a house or business is toxic for immune-compromised individuals. The last thing you want is a mold problem to cost you in medical bills as well as property restoration. If you suspect mold but aren't sure what kind you have, don't use an at-home testing kit for reliable results.
We offer free visual inspection (for property owners only) in Torrance, Hawthorne, Redondo Beach, and the surrounding areas. Call one of our agents at the South Bay LA branch to get started on your mold inspection.
How Do You Eliminate Mold Safely?
In addition to a thorough inspection, we offer full-service mold decontamination for commercial and residential properties. Our mold remediation experts remove fungus safely, wearing protective gear and using only the latest techniques. We also work with third-party labs to determine what kind of mold your property has. If you have mold in your drywall, we'll dispose of it for you. We also remove and replace carpets, ceiling tiles, and other infested materials.
After an effective mold cleanup, we disinfect your property following all EPA and CDC protocols. At 911 Restoration, we have over 30 years of experience with property repairs. That's why our mold remediation includes dehumidifying and water damage – to make sure your property stays dry and fungus-free.
Whether you need a mold inspection or a full cleanup, trust our staff to do the job right, so you don't have to. Our mold removal process works with your schedule and budget. Contact us for full-service property restoration anytime.
Serving the communities of Hawthorne, Manhattan beach, Redondo beach, Torrance and surrounding area.