Water Damage Restoration South Bay LA
In hot, dry areas like South Bay LA, property owners use air conditioning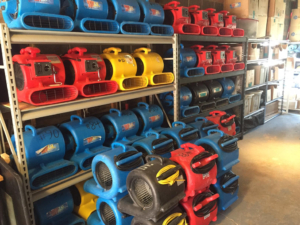 to keep their tenants cool and sprinklers to hydrate their lawns. Unfortunately sprinkler systems and air conditioning units are just some of the ways water can enter homes and businesses uninvited.
Overuse of air conditioning units can cause them to overheat and leak inside your property. In places like South Bay Los Angeles, where it's hot and sunny year round, this is a common issue. Water from a sprinkler system can seep inside your property if your building is old, your property doesn't allow for run off, or your foundation is faulty.
Internal building malfunctions like faulty plumbing or appliances also cause water damage. When your toilet overflows or a pipe bursts under your sink, water spreads quickly, ruining furniture, belongings, and building materials in a short amount of time.
Wherever water goes, problems follow. Water threatens the structural integrity of your property, creates ideal conditions for mold to grow, and causes other issues that end up costing you time and money to fix. Deterioration of your property's building materials, drainage problems with your appliances, or a damp, unpleasant smell, are all signs of water damage. It's important to address water damage quickly, or you could have additional issues like a mold infestation.
If you own property in Torrance, Hawthorne, Redondo Beach, or the surrounding areas, don't let water damage inside your property get out of hand. At 911 Restoration of South Bay LA, we have IICRC-certified technicians ready to handle water damage restoration, mold removal, and more.
Whether you need commercial or residential repairs, we're open 24/7/365, so give us a call for fast, friendly service.
Water Damage Remediation in the South Bay Area
At 911 Restoration, our water damage restoration starts with a free visual inspection (for property owners only). Whether the cause is nature-related or man-made, we'll find the source of water inside your building. After containing it to prevent further harm to your property, we provide you with a full breakdown of all services necessary.
Our water damage restoration includes extraction, drying, sewage cleanup in Los Angeles, and more. If a pipe bursts in the middle of the night, we'll fix the leak in addition to flood cleanup. If you have water-logged furniture or flooring, we'll remove and replace them for you, so there's no need to work with additional companies or contractors.
If you're worried about excess moisture inside your building, our industrial-grade fans and dehumidifiers will take care of it. If your building experienced a leak after a rainstorm, we offer roof repair and structural testing.
If a pipe bursts or a septic tank malfunctions, we handle safe disposal of hazardous waste. Because wastewater contains harmful bacteria, we also provide professional cleaning and disinfection solutions.
At 911 Restoration, we know that mold grows in dark, damp environments. That's why we offer mold inspection in addition to water damage restoration. If you try to remove mold yourself, it can release spores into the air, spreading further harm to you and your property. Trust our Los Angeles mold remediation experts to get the job done right the first time.
Call to learn more about mold decontamination in the South Bay Los Angeles area.
What Happens After Flooding Cleanup?
When a storm or plumbing problem causes a flood inside your property, don't panic. One of our agents is always available to take your call, and we'll have a trained professional at your door within 45 minutes or less. No matter what kind of emergency your building faces, with 911 restoration Los Angeles, you don't have to face it alone.
If you're worried about an impending storm, our staff is here to help with moving, storage, and board-up services as well.
As a national brand, we have over 30 years of experience with property repairs. We're one of the top-ranked restoration companies in the country, and we believe in putting our customers first. That's why we prioritize working with your budget and schedule during all repairs.
When something goes wrong with your property, it's upsetting. The last thing you need is additional stress during repairs. At 911 Restoration of South Bay, we work with every insurance company. We'll help you with the assessment, insurance paperwork, direct billing, and more.
Our philosophy at 911 Restoration of South Bay is to give you a Fresh Start. That means we don't just restore your property after a disaster or accident damages it. We find ways to make it the best space possible. To find out more about how you can get a Fresh Start, call us today.
Serving the communities of Hawthorne, Manhattan beach, Redondo beach, Torrance and surrounding area.