Water Damage and Mold Removal Hawthorne
When you find water, mold, or even fire damage on your property, let our experts at 911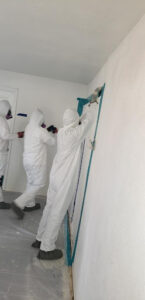 Restoration of South Bay give your Hawthorne property the Fresh Start it needs.
Our 24/7/365 availability lets us send a team of highly-trained professionals to your front door within 45 minutes of your call. And because we're locally owned and operated, we know the area and its climate like the backs of our hands. Each of our IICRC-certified technicians is equipped with years of experience and the best tool available to bring your home or business back to like-new condition.
Thanks to our wide range of services, we can fully restore your property after any emergency no matter how big or small. These can include, but aren't limited to:
Leaking Roofs and Ceilings

Burst Pipes and Hoses

Showers and Faucet Leaks

Clogged Gutters

Mold Remediation

Sewage Backup Cleanup

Fire and Smoke Restoration

Cleaning and Disinfection

Permanent Odor Removal
And, of course, we conduct each one with the same level of compassion and professionalism. We know how stressful times like these can be, so we'll do whatever we can to restore both your property and your peace of mind.
Call 911 Restoration of South Bay today to learn how we can give your home or business the Fresh Start it needs.
Professional Restoration Services That You Can Count On
You can never fully prepare for a sudden flood, a fire, or even a broken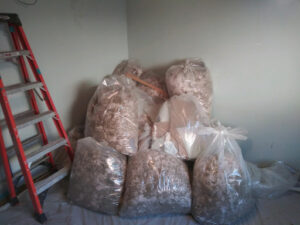 appliance that leaks all over your floor. But when accidents happen, you need the most experienced professionals that you can find to help out. That's when you call 911 Restoration of South Bay for emergency services. 
We get straight to work as soon as we arrive at your property, starting off with a visual inspection and emergency water extraction. If a fire just occurred, we use soda blasting to clear out all of the smoke, ash, and soot. From there, we can better evaluate the damage and determine if any items can be saved.
During our restoration process, we board up windows and roofs to keep the elements out and run tests to see how sound your structure is. We'll fully repair the source of the damage, especially if it's a leak or backup, and can replace all necessary building materials if need be.
Because unchecked water damage leads to mold growth, we look for any signs of an outbreak and safely perform remediation on whatever we find. And, as a last touch, we fully clean and disinfect your property and permanently remove all lingering odors.
Call us today and let us help you restore and revitalize your Hawthorne property.
We Provide Disaster Relief in More Ways Than One
Here at 911 Restoration of South Bay, we don't just restore your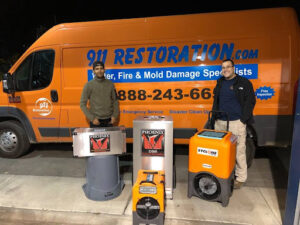 property and then leave it at that. Property damage can upend your life in more ways than one, and we're willing to do everything we can to help get you back on track.
After our initial inspection, we will arrange a free insurance consultation to go over what's covered and what your best options are moving forward. We then guide you through the entire claims process, even billing your insurance company ourselves so you can focus on rebuilding your life.
Our experts also will provide you with plenty of helpful tips to avoid future disasters, and can also provide preventative maintenance at your request. We haven't done our jobs unless we know that your property is safe, and we'll do whatever is necessary to make that happen.
Call 911 Restoration of South Bay at the first signs of damage so we can save your Hawthorn property right away.