Fire & Smoke Damage South Bay Los Angeles
Fire damage is always a concern for people living out West.  In California,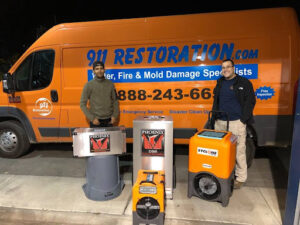 wildfires burn hundreds of thousands of acres every year. This causes untold property damage for commercial and residential buildings throughout the state. With global warming on the rise, wildfires will only get worse.
As a property owner in Torrance, Hawthorne, Redondo Beach, or the surrounding areas, fires are a constant worry. Wildfires spread fast. People have little warning or time to prepare once a fire starts. If you live in South Bay LA, it's a good idea to check the California wildfires map regularly. In addition to property damage, the smoke and flames of a fire can be deadly.
If a fire in the South Bay LA area catches you off guard, your first concern is safety. You worry about where to go, and what to bring with you. While your home or business is important to you, you don't always have time to protect it from a fire. Afterwards, if your building is still standing, you need fire damage restoration. However, after the stress and trauma of a fire, you might not know where to turn. You have to worry about insurance claims, finding a place to stay, and rebuilding your life. It's a lot to deal with after an already upsetting experience.
At 911 Restoration of South Bay Los Angeles, we offer fire cleanup for Hawthorne, Redondo Beach, Torrance, and the rest of the surrounding areas. As a national restoration brand, we have over 30 years of experience with fire damage restoration, but all of our branches are locally owned and operated. That means our South Bay LA branch has a staff of professionals who live nearby and know exactly what you're going through. In addition to fire damage restoration, we offer full-service property repairs for commercial and residential buildings.
A few reasons to choose us for all your fire cleanup needs:
24/7/365 availability
Same-day service
45 minute or less response time
Free visual inspection (for property owners only)
To find out more about our services, contact us any time.
Water and Fire Damage Restoration in One Place
As a building owner, you know that one problem usually leads to another. If your property experiences a fire, a fire department might use a water hose to put it out. The smoke and flames might trigger your sprinkler systems. Either way, you have water damage to deal with in addition to smoke damage and other effects from the fire. The more problems your property has, the more money it costs and the more time it takes to fix.
Water damage often causes Los Angeles mold remediation. When water soaks into your floors or walls, it's difficult to detect. Before you know it, the fungus is growing in the dark, damp areas of your property.
Fires also threaten the structural integrity of your property. Perhaps your ceiling collapsed, or your carpets or walls have smoke damage.
At 911 Restoration of South Bay LA, we offer mold inspection, water damage restoration Los Angeles, and building repairs after a fire. Our fire damage restoration includes structural testing, smoke removal, puffback cleanup, and more. We handle full-service restoration from start-to-finish, to repair your property quickly and effectively. For fire cleanup and so much more, call us today.
Odor Removal and So Much More
After a fire, your building has a lingering, smoky smell. This odor isn't just unpleasant. If you or your building residents inhale soot particles leftover from a fire, there could be serious health risks. Our experienced staff at 911 Restoration of South Bay LA offers smoke removal, soot cleanup, and odor removal as part of our fire damage restoration. We clean sticky soot and ash from your surfaces and belongings after a fire, and we offer help with inventory and itemization.
At 911 Restoration, we know the first thing you need after a fire is compassion. That's why we offer services like free insurance consultations, as well as other resources and information for survivors of a fire. When your home or business experiences an emergency, we're here to offer support and solutions. Maybe a partial building collapse is an opportunity to rebuild your property better than before. If you're not sure what insurance covers, one of our experts will give you an honest assessment of the damage, and help you navigate your claim.
No matter what problem your property faces, we're here to fix it. Call us today.